An inviting and exciting place for moms in the Buffalo, NY area to meet and help bring out their child's natural curiosity about music and Judaism in a fun and encouraging class environment!
Did you know that all children are born musical?
As a parent, you do not need to be a musician to nurture your child's musical growth! Come and see for yourself how you can help develop your child's love for music and Judaism all at once! Music with Rivky will spark the inner musician in every child, while exposing your child to the love of Judaism and tradition, all through fun, music, movement and song.
---
Virtual Pre-Chanukah Music Class & Doughnut Drive-By Parade!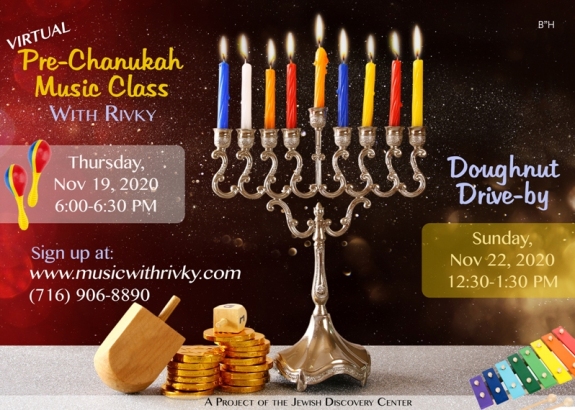 ---
Stay Tuned:
Musical Shabbat Experience with Miss Rivky to resume soon!
Rivky's music is a joy… Buffalo is lucky to have her amongst us and even luckier that she spreads her music throughout our community!!
Rivky is the most multi-talented lady in the way she can play a piano, sing, teach, talk and manage a bunch of exuberant toddlers, all while smiling and yes… taking memorable pictures. "Music with Rivky" is a "must do" multi-media experience if you are the parent of young children looking for a bit of Judaism to enlighten your week!
The class was wonderful and Rivky was an outstanding teacher. We met some wonderful families with whom we are still in contact years later. I recommend Rivky's music class and guarantee that you and your child(ren) will love it!